Belize Facts and Travel Tips
Location: Belize lies on the east coast of Central America in the heart of the Caribbean Basin. It borders Mexico to the north, Guatemala to the west and the south, and is flanked by the Caribbean Sea to the east.  A direct flight to Belize is just over two hours from Miami, Houston, Dallas, and Atlanta in the United States.
Entry Requirements: United States citizens require a valid U.S. passport.  A visa is not required for U.S. citizens.  Visitors are permitted to stay in Belize for up to 30 days.
Language: English is the official language; Spanish, Creole, Garifuna and Mayan are also spoken.
Currency:  Belize Dollar (BZ$), fixed exchange rate of BZ $2 to US $1. US cash is accepted everywhere. There are also ATM's located throughout the country, which will disperse Belize dollars. Credit cards are accepted at most major restaurants and hotels or resorts, and even some stores. Please note when you are using US currency you will almost always receive Belize currency in return if change is due. .
Time: Same as United States Central Standard Time. However, Daylight Savings Time is not observed.
Measurements:  Belize uses the same system of measurements as the U.S., so distances are marked in miles and fuel in gallons.  It is easy to drive around the country of Belize, and motorists will be pleased to know that driving in on the right-hand side of the road.
Electricity: 110 volts AC. (The same as the United States of America)
Phone Code: International access code – 011
Climate: Subtropical with a prevailing wind from the Caribbean Sea. The country has an average temperature 75 degrees in the winter and 81 degrees in the summer.  There is a "wet" and a "dry" season, with the dry season lasting approximately from late November through May.  Rainstorms can occur during the dry season, but are usually brief.
What to Pack:  Your travel documents and your passport should be in your carry-on bag.  Belize has a tropical relaxed vibe, so bring casual light clothes.  Shorts, t-shirts, swimsuits, and cover-ups for daytime beach life activities are adequate.  Don't forget your sunscreen and maybe a hat.  If traveling inland light slacks and long sleeved light shirts, and good footwear especially if walking in the jungle at all.  Insect repellent is a must for inland and for the evenings in beach areas.  You might want to consider dressier shorts for the guys, sundresses or Khakis for the ladies to dine at restaurants in the evenings.  Flip flops, sandals and beach footwear is advisable, although going barefoot is acceptable.  A light jacket for boat rides or for the cooler months, and a poncho or rain gear for the occasional shower are also advisable.
Taxes & Fees: Sales tax (on goods & services) is 12.5%.  International passenger Airport Departure Fee is $39.25 USD (payable only in US currency with US cash or credit card).  Check with your airline, this departure tax may be included already in your ticket.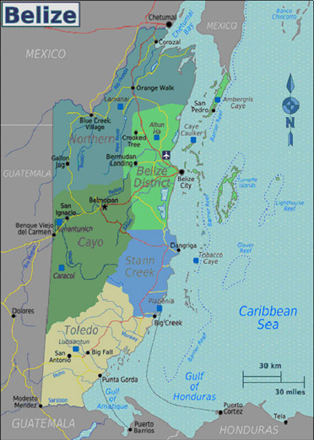 click here to enlarge image